2014 Pangos All-East Recap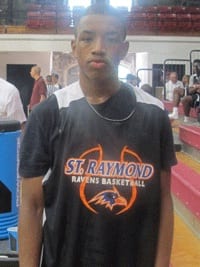 The Pangos All-East Camp concluded with the Top 30 and Top 60 Cream of the Crop all-star games. The camp was loaded with D1 prospects and quite a few unknowns that will enter the national rankings.
The roster was deep with high major prospects but I had to settle on the top 10. Here are the Top 10 prospects I viewed during the weekend:
2018 6-4 G Montez Mathis (Mount Carmel (Baltimore MD) - Dominant scorer with tools at all levels. He was very good all weekend, attacking the basket and finishing through contact, hitting the long ball and mid-range while playing with energy on defense and rebounding the ball on both ends. Mathis is a top 25 talent and being a freshman can only get better.
2017 6-4 G Eric Ayala
(Sanford (Wilmington DE) - Played with the pace of an upperclassmen. Ayala never seemed rushed while setting up his teammates or beating his man off the bounce. When the defense got lazy he made them pay by draining the deep ball. Solid on the defensive end.
2017 5-10 G Tremont Waters
(South Kent (CT) - Probably the most creative scoring guard at the camp. Waters uses change of direction and speed to beat his man and craftiness to score against bigger help defenders. Although he relishes the chance to beat his man off the dribble, he can also drain the deep ball. In one game he hit six straight.
2017 6-4 G Keith Williams
(Bishop Loughlin (Brooklyn NY) - One of the top shooters here this weekend. Williams makes you pay for slow rotations, if your too aggressive on the close-outs he attacks the basket for buckets. He has a good frame and length which he utilizes to rebound on both ends.
2017 6-0 G Isaiah Washington
(St. Raymond's (New York NY) - One of the top point guards al weekend. Washington has the speed, toughness, vision and mid-range game to be one of the top point guards in the class. He was one of the few pg's that got his teammates involved first before getting his own.
2017 6-3 G David Beatty
(Archbishop Carroll (Radnor PA) - Beatty is very good attacking the basket with straight line drives off the catch. His ability to finish in transition is high level. Has a good frame to finish through contact and athleticism to score among the trees.
2017 6-10 PF/C Simon Ejike Obinna (Virginia Academy (VA) - In this age of bigs wanting to be guards, it was a pleasure to see one that was comfortable being in the post. Obinna ran rim to rim, beating his defender down the floor, for easy buckets. He worked the glass on both ends, rebounding outside his area. He has good hands, sometimes making tough catches on the move, to finish plays. Dunked everything he could around the basket.
2017 6-10 PF/C Zach Kent
(St. Andrews (Middletown DE) - He, like Obinna, relished playing in the post. He ran the floor, finished plays around the basket with both hands and showed a nice touch on short jumpers and jump-hooks. Kent doesn't have a big body but did a nice job of holding post position.
2018 6-5 G Cameron Reddish
(Haverford School (Haverford PA) - One of the top prospects at the camp. When I caught him early this summer he showed more of a slashing game, this weekend he showed us he can drain the jumper and do it consistently. His ability to beat his man off the dribble or stroke the long ball makes him tough to defend. His long arms and anticipation makes him tough on the defensive end.
2018 6-1 G Javon Quinerly (Hudson Catholic (NJ) - One of the more efficient guards that I saw. He got to his spots utilizing what he needed, nothing extra. Handles the ball well in tight spaces. He has a second gear that he effectively uses to beat his defender to the basket. He has very good vision, hitting cutters and finding shooters on kick-outs.
Horoace Neysmith writes for AllMetroHoops.com